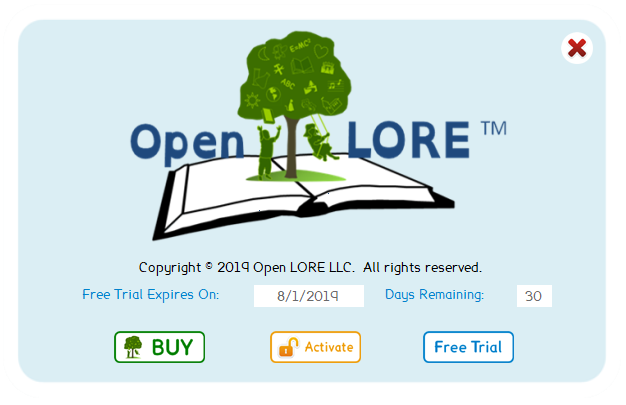 Open LORE™ Read 1.5 Free Trial
$0.00
Click to Compare Open LORE Reading Products
30-DAY FREE TRIAL EDITION 
Click "Add to cart" to complete the check out process - don't worry, it's still free.
You are being provided with a full featured version of the Open LORE Read 1.5 reading software.  After 30 days the trial will expire and the software will no longer work unless activated with a valid license key.
You are licensed to install your free trial on one computer.  To view the complete End User License Agreement, click the link below. 
Once you have installed and opened the program you will be shown a starting dialog.  Click "Free Trial" to begin using the Open LORE Read 1.5 software.
New Learning Center free trial included - just click the Free Trial button on the Home Screen!
Included Voices
Adult: Heather, Ryan,
Laura, & Micah
Fun: Little Creature

System Requirements
OS:

Windows 7, 8, and 10


Processor: >1.60 GHz
Disk space: 1 GB
Memory: 1 GB